Composite Push to Connect Fittings for Metric Tubing, PT, R, BSPT Thread -- PC Male Connector
Male connector for metric tubing, PT, R, BSPT thread is used to tube a female thread port in the same direction. Male straight connector is a kind of generally used push to connect fitting that accommodates metric tubing O.D ranging from 4mm to 16mm and thread size ranging from M5, M6, BSPT 1/8 to BSPT 1/2. Push to connect male connector can be externally tightened with a flat wrench or socket wrench and internally adjusted with an Allen wrench. The body of the male connector is made of nickel plated brass.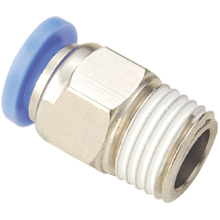 Fluid Admitted: Air, Vaccum, Water*
Push-in Tubing O.D: From 4mm to 16mm
Thread Size: From M5, M6, BSPT 1/8 to BSPT 1/2
Body Material: Nickel Plated Brass
Thread Sealing: Teflon-coating
Working Pressure: 0—1.0MPa | 0—150psi
Proof Pressure:  3.0Mpa | 435psi
Negative Pressure: -100Kpa | -29.5 In Hg
Working Temperature: 0—60°C | 32—140°F
Push to connect fitting - male straight connector can be used to connect metric tubing 4mm, 5mm, 6mm, 7mm, 8mm, 9mm 10mm, 12mm, 14mm, 15mm and 16mm.

---
| Part No. | Push-in Tubing O.D | Thread Size |
| --- | --- | --- |
| PC 04-M5 | 4mm | M5 x 0.8 |
| PC 04-M6 | 4mm | M6 x 1 |
| PC 04-01 | 4mm | PT, R, BSPT 1/8 |
| PC 04-02 | 4mm | PT, R, BSPT 1/4 |
| PC 06-M5 | 6mm | M5 x 0.8 |
| PC 06-M6 | 6mm | M6 x 1 |
| PC 06-01 | 6mm | PT, R, BSPT 1/8 |
| PC 06-02 | 6mm | PT, R, BSPT 1/4 |
| PC 06-03 | 6mm | PT, R, BSPT 3/8 |
| PC 06-04 | 6mm | PT, R, BSPT 1/2 |
| PC 08-01 | 8mm | PT, R, BSPT 1/8 |
| PC 08-02 | 8mm | PT, R, BSPT 1/4 |
| PC 08-03 | 8mm | PT, R, BSPT 3/8 |
| PC 08-04 | 8mm | PT, R, BSPT 1/2 |
| PC 10-01 | 10mm | PT, R, BSPT 1/8 |
| PC 10-02 | 10mm | PT, R, BSPT 1/4 |
| PC 10-03 | 10mm | PT, R, BSPT 3/8 |
| PC 10-04 | 10mm | PT, R, BSPT 1/2 |
| PC 12-01 | 12mm | PT, R, BSPT 1/8 |
| PC 12-02 | 12mm | PT, R, BSPT 1/4 |
| PC 12-03 | 12mm | PT, R, BSPT 3/8 |
| PC 12-04 | 12mm | PT, R, BSPT 1/2 |
| PC 14-02 | 14mm | PT, R, BSPT 1/4 |
| PC 16-02 | 16mm | PT, R, BSPT 1/4 |
| PC 16-03 | 16mm | PT, R, BSPT 3/8 |
| PC 16-04 | 16mm | PT, R, BSPT 1/2 |
Related Video for PC Male Connector