Pneumatic Silencers and Mufflers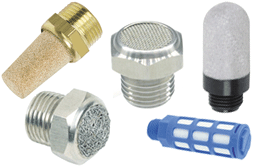 PNEUFLEX manufactures different kinds of silencers that are made of sintered stainless steel, sintered bronze, HDPE shaped flake powders and porous plastic. Pneumatic silencer is suitable for a limited space which is commonly used to reduce the noises, prevent metal chips, abrasive grits, dust and other contaminants from entering exhaust ports.
Pneumatic silencers are usually used to reduce the air exhaust noises from pneumatic tools, air cylinders and other pneumatic systems.
Available thread sizes:
Metric Thread from M5 to M20
PT, R, BSPT Thread from 1/8 to 1/2
BSPP, G Thread from 1/8 to 1/2
NPT Thread from 1/8 to 1/2
UNF Thread 10-32UNF
UNC Thread 10-24UNC
Available noise absorbing material:
Sintered Bronze
Sintered Stainless Steel
Polyethylene
Plastic
Technical Characteristics
 
 Fluid Admitted
Compressed Air
 
 Working Pressure
3.0MPa | 435psi
 
 Working Temperature
-10°C — 80°C | 14°F — 176°F
 
 Body(noise absorbing material)
Sintered Bronze, Sintered Stainless Steel, Polyethylene
 
 Base(thread)
Brass, Stainless Steel, Polyethylene
Thread Standard and Type
PT, R, BSPT - 55° Taper Pipe Thread
R1/8
R1/4
R3/8
R1/2
R3/4
R1
R1-1/4
R1-1/2
R2
BSPP, G - 55° Parallel Pipe Thread
G1/8
G1/4
G3/8
G1/2
G3/4
G1
G1-1/4
G1-1/2
G2
UNF
NPT - 60°American Standard Taper Pipe Thread
10-32 UNF
1/8 NPT
1/4 NPT
3/8 NPT
1/2 NPT
3/4 NPT
1 NPT
1-1/4 NPT
1-1/2 NPT
2 NPT
Metric Thread
M5 x 0.8
M6 x 1
M8 x 1
M8 x 1.25
M10 x 1
M10 x 1.25
M12 x 1.25
M12 x 1.5
M14 x 1.5
M16 x 1.5
M20 x 1.5
---
Various Types of Sintered Bronze Silencers, Sintered Stainless Steel Silencer and Plastic Mufflers
---