Composite Push to Connect Fittings for Metric Tubing, PT, R, BSPT Thread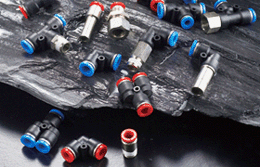 Pneuflex's metric composite push to connect fittings (metric push in fittings with BSPT thread) for metric tubing, PT, R, BSPT thread can accommodate metric tubing O.D from 4mm to 16mm and PT, R, BSPT thread ranging from 1/8 to 1/2. The composite push to connect fittings are made of nickel plated brass (thread) and PBT (body). Stainless steel tube gripping claws, collars and release sleeves (collets) offer a quick hold and release mechanism to provide a low disconnection force for easy removal of the tubing. Pneuflex's metric push to connect fittings come in a variety of types, models and sizes to satisfy various tubing demands and provide essential links between components in pneumatic systems.
Connects metric tubing from 4mm to 16mm
Accommodate male and female thread from R1/8 to R1/2
Release sleeve allows easy removal of tubing without damaging the tubing
Multi-colored oval and round release sleeve
Elbow, Tee, Y and Banjo with thread allow rotation of the body for ease of installation in confined spaces
All Pneuflex's push to connect fittings are RoHS Compliant.
**Composite push to connect fittings are not intended for use in potable water systems.
Construction | Specifications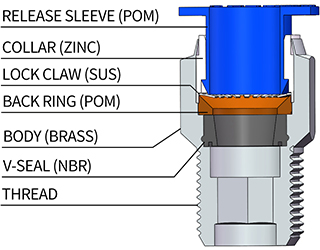 Fluid Admitted: Air, Vaccum, Water(no freezing)
Body Material: Nickel Plated Brass & PBT Plastic
Thread Material: Nickle Plated Brass
V-seal Material: NBR
Working Pressure: 0~1.0MPa | 0~150psi
Proof Pressure: 3.0Mpa | 435psi
Negative Pressure: -100Kpa | -29.5 In Hg
Working Temperature: 0~60°C | 32~140°F
Lock Claw: Stainless Steel(SUS)
Applicable Tube: PU / PA / PE / PVC
---
---