Composite Push to Connect Fittings for Metric Tubing -- PU Union Straight
Metric composite push to connect fitting - Metric Union Straight is widely used in the pneumatic systems. Metric union straight in line connect 2 metric tubings of equal diameter. Metric union straight connects metric tubing O.D from 4mm to 16mm to provide easy connection and disconnection of tubing.
FYI: Pneuflex produces 250,000pcs - 400,000pcs of push to connect union straight fittings per month.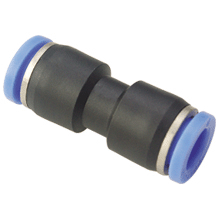 Fluid Admitted: Air, Vaccum, Water*
Push-in Tubing O.D: From 4mm to 16mm
Body Material: PBT
Working Pressure: 0—1.0MPa | 0—150psi
Proof Pressure: 3.0Mpa | 435psi
Negative Pressure: -100Kpa | -29.5 In Hg
Working Temperature: 0—60°C | 32—140°F
---